Brands are always looking at ways to involve themselves in online conversations around a current event or trending topic, with varying degrees of success. When it works it can get lots of attention. When it doesn't….well sometimes it also gets attention but not for the same reasons.
Here are some of my favourite examples of reactive marketing to date. Also, to find out how to best maximize your own reactive marketing efforts read this post.
Heineken
Apple drew a lot of ire from iPhone 6 owners after a slight bend was noticeable in their expensive new handsets. Heineken was quick to respond.
Dear Apple… #BendGate pic.twitter.com/XJ8zVEUog9

— Heineken NL (@Heineken_NL) September 25, 2014

Snickers
What made this example of reactive marketing so great was the ability of Snickers to tie Clarkson's punch up with a producer back to their ongoing campaign "You're not you when you're hungry"
.@JeremyClarkson you may want to have some of these on set next time you are #hungry… pic.twitter.com/Vxihd6k9lt — Snickers (@SnickersUK) March 12, 2015

Monster
Monster Energy were cleverly able to jump on the trending hashtag #TheDress (also #TheDressBlueAndBlack and #TheDressIsWhiteAndGold) as they had products that matched the colours of the now infamous dress. Simple and effective.
#BlackandBlue or #WhiteandGold … What team are you on? pic.twitter.com/GpcII6ALZj

— Monster Energy (@MonsterEnergy) February 27, 2015

Nandos
Probably my favourite as it didn't require any graphics or products. Just a really smart idea.
In honour of Sir Alex Ferguson we're proud to introduce #NandosFergieTime – all our Manchester Nando's will be open 5 minutes later tonight. — Nando's (@NandosUK) May 8, 2013
Guinness
The organisers of the Web Summit got into something of a public spat with the RDS following embarrassing complaints that the Wi Fi at the venue wasn't working. This tweet by Guinness was deleted shortly after it was tweeted but still managed to raise a wry smile from those who saw it.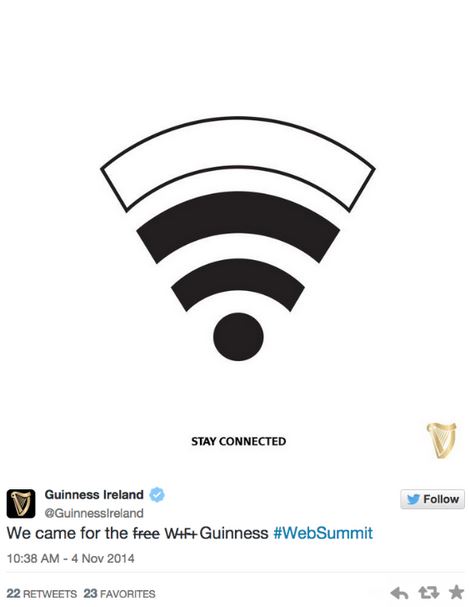 And a great example of how a local business can get it right….
Cadbury announced it was discontinuing the pink snack bar, much to the displeasure of it's loyal eaters. One local shop in South Dublin took matters into his own hands and his efforts were picked up by the national media as they found a nice quirky angle to the story.
Just bought all pink snacks in Musgraves #savepinksnacks pic.twitter.com/HO0nz8MTUH

— Gerard Maguire (@64_Wine) February 27, 2015